St Clements University Myanmar College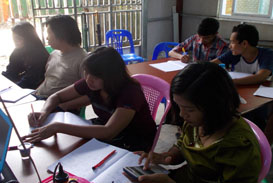 History
The St Clements Education Group was founded in 1995 when St Clements University was registered in the Turk and Caicos Islands as a university company offering non-traditional degree programs.
Mission Statement of St Clements Education Group
As far as practical education should be made easily accessible to the people through classroom campuses, satellite campuses, open learning and hybrid learning rather than forcing the students to leave their local community in order to obtain knowledge not available locally.
Learning should be a lifelong experience and that higher education should be available to all who qualify, and not just school leavers.
An important part of the St Clements Education Group's philosophy flowing from its mission statement, is that it endeavors to take education to the people where there is need for it. This has led it opening schools in some very difficult parts of the world.
In 2012, St Clements University Myanmar College was firstly established as IQY Technical College of Highlight Computer Group in Myanmar to teach St Clements University Higher Education School Niue's Diploma/ Advanced Diploma and Bachelor Degree programs in Engineering, Information Technology and Management courses to the students of Myanmar at the price affordable to average working class people of Myanmar.
IQY Technical College of Highlight Computer Group (Myanmar) is an authorized training centre of Singapore Institute of Engineering Technologists for ASEAN Engineer, ASEAN Engineering Technologist and ASEAN Engineering Technician Registration. IQY Technical College of Highlight Computer Group is affiliated to St Clement's Technological University, International Institute of Science, Engineering & Management & The Institute of Professional Business & Technical Managers. IQY Technical College of Highlight Computer Group is the first Myanmar based institution that provides the international standard education to the students over the world by e-Learning.
From 2014 to 2017, IQY Technical College was operated as an affiliated college in Myanmar for St Clements University. In November 2017, St Clements University Myanmar College was established in the name of IQY St Clements Education Group which represents both St Clements University Myanmar College and IQY Technical College. All academic staff are taking part in both colleges in Myanmar.
St Clements University Myanmar College is not a registered educational institution in Myanmar, it has been developed to offer St Clements University's international programs to the people of Myanmar.